What another busy week in Pre-Reception. We have all been talking about, how we can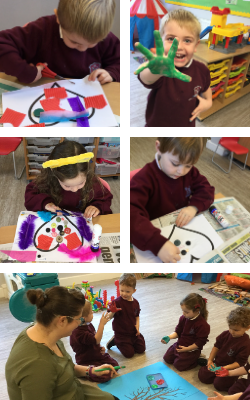 help each other and what we do that is kind.
Throughout the week we have created our very own Kindness Tree and the children have come up with different ideas of what kindness means to them.
On Wednesday we joined in the 2 minutes silence for Remembrance Day within our room while watching the live stream.
Pre-Reception C'est Fantastique!
The children in our Monday Pre-Reception class are having lots of fun learning French. They are brilliant at saying hello and introducing themselves. They have loved wearing dress-up masks and playing hide and seek with cartoon characters to help reinforce their learning. They have also been learning the colours by doing mini bean bag treasure hunts! Monsieur Cochon and Monsieur Dinosaure have been very helpful too – can you spot them in the picture?
Bravo Pre-Reception –  some wonderful work!
Categories:
News
Reception