We welcomed everyone back to nursery, after our first few weeks back the children have settled back in like ducks to water! We are very proud of all the children. Well done everyone!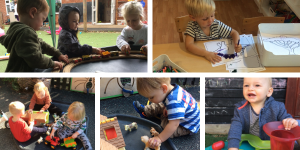 Babies
The babies have been settling back into the nursery routine. They have enjoyed seeing their friends again and meeting the new babies who have joined us. They have all been confident on arrival and have enjoyed a variety of activities both indoors and out in the garden.
Bluebells
We are really proud of all of the Bluebells. they have settled back into nursery so well, some after just two weeks and others after five months.  They have reformed friendships that they had prior to closing and made other new friends.
Poppies
Returning to nursery for a new term, we are excited to see all of you coming back into Poppies room as well as welcoming some new friends. We are easing back into nursery this first few weeks by doing activities around getting to know all of Poppies' new interests and we are loving hearing about all your adventures that you have all had over the summer. Welcome back everyone!
Categories:
News
Nursery