Babies
Babies have loved exploring the secret garden again this week, feeling the different textures of bark, moss and leaves. We were all very excited to find a ladybird!
---
Bluebells
This week Bluebells have continued to explore autumn activities. We have enjoyed cutting spikes into Hedgehogs and threading Squirrels. Leaf printing is also something we have enjoyed. We loved exploring the rain in our wetsuits.
---
Poppies
What an exciting week we have had in Poppies. We have really enjoyed garden games, playing with the hula hoops and playing croquet. We enjoyed tapping the ball through the arch and around obstacles. We are learning about keeping healthy this week by moving our bodies in a variety of ways and looking at the foods we eat during our time at nursery and at home too. We have loved doing an activity about washing hands and used glitter as germs to show how they can stick to our hands and how we have to wash them off. We have loved car painting, seeing the effects of how marks are made with different things. Have a good week everyone.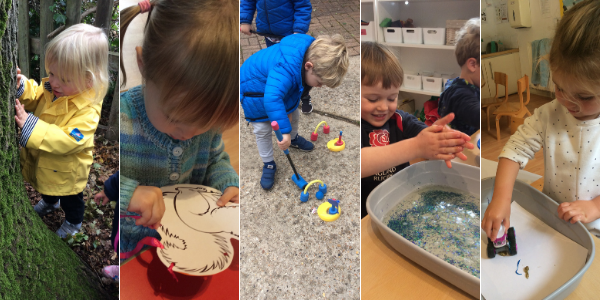 Categories:
News
Nursery